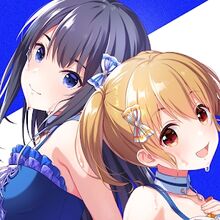 This page needs additional information added, please feel free to add any translations or guides for the game and contact Takaminas if you need any help!
IDOLY PRIDE is a mobile RPG that was available to install on June 23, 2021 but the service officially released on June 24, 2021. It is released exclusively in Japan.
Description
The drama behind the scenes makes the stage shine! They are idols that put all their doubts, worries, and conflicts to the test and move forward. This is the story of idols who are running through adolescence with big dreams and harsh realities; they're sad but passionate.
Become a manager and support your idols in their busy activities such as handshake meetings, TV appearances, and live performances. You can consult with them, deepen your bond with them, and lead them to become top idols!
Features
Make phone calls and talk with your idols to deepen your bond with them. Whether you're playing or not, you'll receive notification messages from your idols asking for advice on their problems or to let you know about their work. You'll be able to find out more about your idol's life and career.
The "3D live" will become more extravagant as your idols grow. The game begins in a small concert hall. As the idols grow, the audience increases and the venue becomes more luxurious! Increase your fanbase and aim for a packed live!
Shake hands, sign autographs, take pictures, hand out flyers, and do many other "jobs" for the idols. Use your management skills to support the "jobs" that progress automatically as time goes by! This is a great way to increase your idol's fanbase and lead them to a successful concert!
You can take a photo of your idols working hard at a live concert or at work, in your favorite outfit, in your favorite place, and from your favorite angle, to create your own unique photo!
Gameplay
Song List
Gallery
For a list of cards from the game, visit the image gallery.