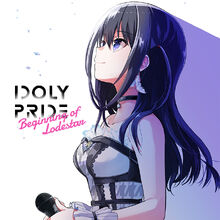 IDOLY PRIDE Beginning of Lodestar is a manga and web manga adaptation from the IDOLY PRIDE franchise, which began serialization on October 30, 2020. It is created by manga artist Yuriko Asami.
The first physical volume was released on January 27, 2021 with the second and final volume released on June 10, 2021.
The web manga ended serialization on June 24, 2021 with a total of 2 volumes. The web manga is available to read online on ComicWalker and Nico Nico Seiga.
Description
Mana Nagase is a high school girl from Hoshimi City who loves to sing. One live performance leads her to become a top idol and she starts to shine. The official spin-off comic depicting the past of Mana Nagase from "IDOLY PRIDE" is on its way!
The manga covers the plot of Episode 1 and Episode 2 of the anime series.
Web Manga
Cover
Information
IDOLY PRIDE Beginning of Lodestar
Publication Date: October 30, 2020 - June 24, 2021


Chapters

Chapter 1
Chapter 2
Chapter 3
Chapter 4
Chapter 5
Chapter 6
Chapter 7
Chapter 8
Chapter 9
Chapter 10
Chapter 11
Chapter 12
Chapter 13
Chapter 14
Chapter 15
Chapter 16
Volume List
Cover
Information
IDOLY PRIDE Beginning of Lodestar 1
Publication Date: January 27, 2021
ISBN: 978-4049136296


Chapters

Chapter 1
Chapter 2
Chapter 3
Chapter 4
Chapter 5

IDOLY PRIDE Beginning of Lodestar 2
Publication Date: June 10, 2021
ISBN: 978-4049136937


Chapters

Chapter 6
Chapter 7
Chapter 8
Chapter 9
Chapter 10
Chapter 11
Chapter 12
Chapter 13
Chapter 14
Chapter 15
Chapter 16
Extra
Gallery
External Links