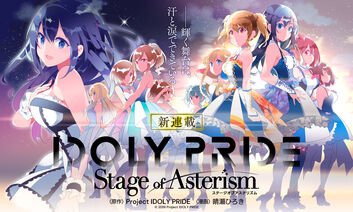 IDOLY PRIDE Stage of Asterism is a manga and web manga adaptation of IDOLY PRIDE, which began serialization on June 10, 2020. It is created by manga artist Hiroki Haruse.
The first physical volume was released on January 15, 2021.
Description
"The shining stage is made of sweat and tears".
Hoshimi Productions is a small entertainment company in the suburbs of Kanto. Ten newcomer idols, each with their own goals, aim for the top of the idol world. Three companies, QualiArts, Music Rain and Straight Edge, in addition to art by Hiroki Haruse, have made a comic book version of the large-scale idol project 'IDOLY PRIDE'! This is the story of hot and sad idols who run through their adolescence with big dreams and harsh realities in front of them.
Chapters
Cover
Information
IDOLY PRIDE Stage of Asterism
Publication Date: June 10, 2020 -


Chapters

Prologue

Chapter 1

Pride and Destination (Part 1)
Pride and Destination (Part 2)

Chapter 2

Pride and Top (Part 1)
Pride and Top (Part 2)

Chapter 3

Pride and Life (Part 1)
Pride and Life (Part 2)

Chapter 4

Pride and Raindrop (Part 1)
Pride and Raindrop (Part 2)
Pride and Raindrop (Part 3)

Chapter 5

Pride and Paradox (Part 1)
Pride and Paradox (Part 2)

Chapter 6

Pride and Understanding (Part 1)
Pride and Understanding (Part 2)

Chapter 7

Pride and Loss

Chapter 8

Pride and Reunion

Chapter 9

Pride and Opponent

Chapter 10

Pride and Sensitiveness

Chapter 11

Pride and Sun and Moon

Chapter 12

Pride and Heartbeat

Chapter 13

Pride and Preparation

Chapter 14

Pride and the Song (Part 1)
Pride and the Song (Part 2)

Chapter 15

Pride and Moonlight (Part 1)
Pride and Moonlight (Part 2)

Chapter 16

Pride and Fact (Part 1)
Pride and Fact (Part 2)

Chapter 17

Pride and Myself (Part 1)
Pride and Myself (Part 2)

Extra Edition 4koma

Extra Edition 4koma #1: Interview
Extra Edition 4koma #2: Donuts
Extra Edition 4koma #3: Shizuku's Room
Extra Edition 4koma #4: Horror Movie
Extra Edition 4koma #5: Whatever It Takes
Extra Edition 4koma #6: After That...
Extra Edition 4koma #7: Privacy
Extra Edition 4koma #8: Innocence
Extra Edition 4koma #9: Rival
Extra Edition 4koma #10: Egosurfing
Volume List
Cover
Information
IDOLY PRIDE Stage of Asterism 1
Publication Date: January 15, 2021


Chapters

Prologue
Pride and Destination
Pride and Top
Pride and Life
Pride and Raindrop
Pride and Paradox
Pride and Understanding
Pride and Loss

IDOLY PRIDE Stage of Asterism 2
Publication Date: April 2, 2021


Chapters

Pride and Reunion
Pride and Opponent
Pride and Sensitiveness
Pride and Sun and Moon
Pride and Heartbeat
Pride and Preperation
Extra
Gallery
External Links